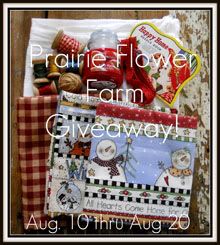 Look at all the wonderful goodies that  Linda is giving away, here is a list:
A Bundle of Fun!
4 little old spools with floss
Spool of Red checked ribbon
Little Juicy Apple Candle
1 yd. of our All Hearts Come Home for CHRISTmas fabric
1 yd. of our Winter Is In The Air fabric
1 yd. Red Check Homespun fabric
Red Lace
Happy Home Needle Book
Little ball of Twine
Tea Bag Cozy/Tea
One 100% cotton white Tea Towel
Now be sure to hop over and get your name in the pot. 
Psalm 119:14"I rejoice in following your statutes as one rejoices in great riches."

Brought to you by BibleGateway.com. Copyright (C) . All Rights Reserved.